Gifted & Talented Program
The state of New Jersey defines Gifted and Talented as follows:

"Gifted and talented students" means students who possess or demonstrate high levels of ability in one or more content areas when compared to their chronological peers in the local school district and who require modifications of their educational program if they are to achieve in accordance with their capabilities."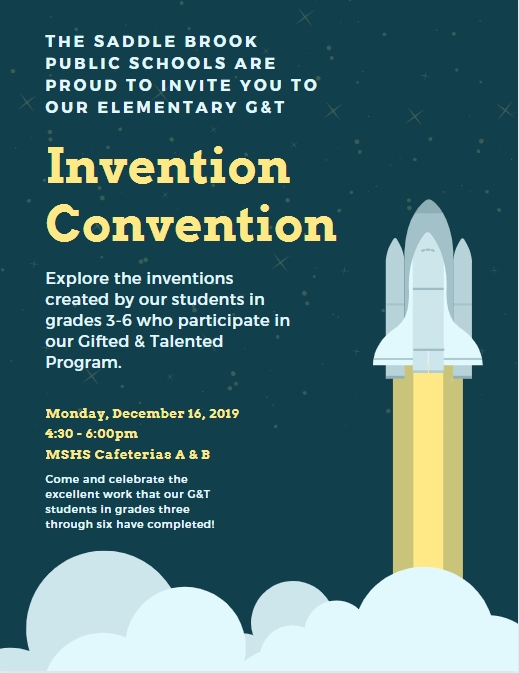 G&T 2019-20
Please join us as we share information regarding the Saddle Brook School District's Gifted & Talented program (previously TAG). We will be hosting two identical parent information sessions. One will be at 7:00pm on Tuesday, September 10th. And, the other will be at 7:00pm on Monday, September 23rd. Both sessions will be held in our high school auditorium. The sessions will review entrance and exit criteria, as well as the program plan for the 2019-20 school year. Please note that any student who was part of the TAG program last school year, will be invited to continue in the program this school year.

RSVP HERE: Gifted & Talented Parent Information Session

G&T Parent Recommendation Form or printable form: G&T Parent Recommendation Form

Our G&T calendar is on this page. The year is divided into modules, or units. There will be three modules (Units of Study) in the year. Students in our Gifted & Talented program participate in all the modules. If there is an early dismissal, G&T sessions will still occur. The sessions will be canceled on delayed openings and days schools are closed.
Parent Resources
National Association for Gifted Children website

New Jersey Association for Gifted Children

National Association for Gifted Children Parent Brochure